Dandiya Dhamaka - 2018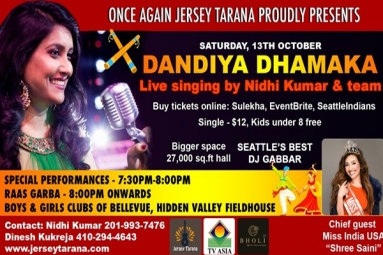 About this Event
After a sold out event last year, Nidhi's Jersey Tarana is bringing back Dandiya Dhamaka with even more power. As the audience demanded, we have gotten a huge hall of approxiametly 27,000 square feet. Come and dance with Seattle's best DJ and Nidhi Kumar, a proffesional singer.
Highlights:
- Delicious, mouthwatering food including snacks, dinner boxes, chai, drinks, and more,
- Get your photos FREE by our proffesional photographer in our photo booth
- Dance to impress and bring your best dress to the event!
- The best female and male dancer at our event will recieve a special prize.
Contact us before tickets run out, and get discounts (such as the group discount we offer) to enjoy dancing with your close friends. Group discount can only be used for 10+ people. Kids 8 and under are free and kids 9 and above are counted as singles. We hope to see you there!
EVENT TITLE & ADDRESS
STARTS FROM