ROAR 2018 with DJ Akbar Sami Live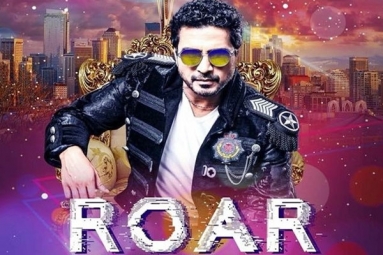 About this Event
DEMBI Productions Present ROAR 2018 with DJ AKBAR SAMI in Seattle!
Seattle brace yourselves for the BIGGEST BOLLYWOOD DANCE PARTY w/ The Remix King , legendary DJ AKBAR SAMI , straight from Mumbai on his annual ROAR 2018 US/CANADA TOUR!
Alongwith Top Bollywood DJ's DJ UV (LA) & DJ SATS (Seattle) now in your city!
ENTERTAINMENT:
Akbar Sami
The legendary DJ Akbar Sami – The King of Bollywood Remix ' and a globally renowned DJ, Music Producer, & Music Director shot to fame with his first remix album Jalwa has since gone on to produce a number of other hit albums like Jadoo and Jalwa II with popular remixed songs like Raat baaki and Dhagala lagli kale,Om shanthi om. The first Indian DJ to produce official Bollywood Remixes. He has to his credit a number of awards and won many awards in India & in the US. Won awards like the All Asian DJ Championship and Channel [V]'s Best Indian Club DJ. With his Bollywood hits like JALWA, PAISA YE PAISA 'Just Chill' & 'Ashiq Banaya Aapne', DJ Akbar Sami has retained his no. 1. position and one of the best in the industry. He is recognized as one of the pioneer Indian Djs in the US & been awarded by the Mayor of San Francisco for the same.
His Achievements include:
* The First Ever Indian DJ to be famous WorldWide.
* #1 Ranked remixer featured on MTV,Channel [V]
* Official Remixes for Bollywood films "Wanted","Partner","Namaste London",Bhool Bhulaiyaa","36 China Town".
* Record breaking albums "Jalwa",Jalwa 2", "Jalwa 2010".
* Bollywood Remixes for many movies
* Won the All Asian DJ Championship in 1989 ; Won The DJ Awards "92″, "93″, "96″ ; Won Channel [V]'s Best Indian Club DJ "98″, "99″, Judges for the Mirchi Music awards for last 5 years, The only DJ to represent India at the Emporium Beach Fest (nagoya) Japan 2018.
DJ UV (LA)
* "People use their voice to introduce themselves, for me my music does my introduction" DJ UV has been an inspirational figure in the DJing industry of Los Angeles, California.
* His keen knowledge of music and expert hands-on decks makes him stand out in the industry of DJs.
* Knowing his music in and out, his mixing skills mesmerizes his audience and even the non-dancers fall sick to dance.
* DJ UV says "I don't play music I PLAY THE CROWD" and this is
truly reflected in his live acts. He holds very keen mixing skills as well that does not let the dance floor to lose its energy. He makes a power pack dance environment in his shows by the perfect blend of Bollywood and EDM tunes.
FB: facebook.com/DJUV105
INSTAGRAM: instagram.com/deejayuv
Latest Mix: https://www.mixcloud.com/DJUV105/
DJ DJ Sats (Seattle)
* His infectious sounds & Talent will make this ROAR 2018 With DJ AKBAR SAMI in Seattle Party one to remember!
FB: https://www.facebook.com/djsats914/
INSTAGRAM: .instagram.com/dj_sats/
Latest Mix: https://soundcloud.com/sats-boss
?Live Dhol performance all night by Rock The Dhol?
? Professional photos by OutSide Thinc Creative Photography?
? Bollywood videos & Visuals on big screens?
?Huge open dance floor & a 360 degrees full bar?
Hard Rock Cafe Seattle
*LEVEL1 DINE to world renowned Hard Rock Menu (must purchase separately)
*LEVEL 2 boasts a huge dance floor, amazing lighting, big screens w/ Bollywood visuals, High end sound system, full 360 degree Bar and more.
*LEVEL 3 Has an open rooftop w/ multiple fireplaces and bar overlooking the scenic Puget Sound, Pikes Place Market and downtown.
EVENT TITLE & ADDRESS
STARTS FROM
CrossRoads Park,
16000 NE 10th St,
Bellevue, WA 98008

Sammamish High School,
100 140th Ave SE,
Bellevue, WA 98005

Kane Hall,
4069 Spokane Lane,
Seattle, WA 98105

Angel of the Winds Arena,
2000 Hewitt Ave,
Everett, WA 98201