Lohri 2019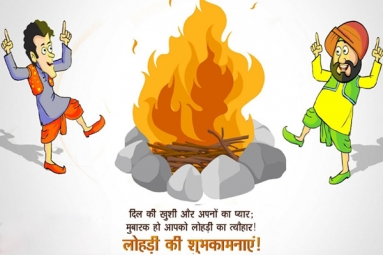 About this Event
Lohri is time to enjoy the celebrations from Punjab state of India which is known for fun, Punjabi food, Bhangra and Gidda.
Lohri is a popular winter time Punjabi folk festival, celebrated primarily by Sikhs and Hindus from the Punjab region of Indian subcontinent. The significance and legends about the Lohri festival are many and these link the festival to the Punjab region. Many people believe the festival commemorates the passing of the winter solstice. Lohri marks the end of winter season, and is a traditional welcome of longer days and sun's journey to the northern hemisphere by Sikhs and Hindus in the Punjab region of the Indian subcontinent. It is observed the night before Makar Sankranti, also known as Maghi, and according to the solar part of the lunisolar Bikrami calendar and typically falls about the same date every year (January 13).
Let's enjoy culture and tradition of Lohri with full enthusiasm and Punjabi style with makke Di Roti and Sarson ka Saag and Bhangra to keep us dancing on DJ Punjabi beats and dhol!
Dress code is to bring out essence of Punjab with colors and traditional outfits.
It's a friends and family event.
This event was a complete sold out event in the past so reserve your tickets now.
EVENT TITLE & ADDRESS
STARTS FROM